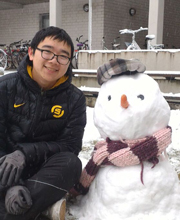 Applied Scientist II
PXT Central Science (PXTCS)
Amazon

I am Fanyou Wu, and I am an Applied Scientist at Amazon PXT Central Science (PXTCS). I received my Ph.D. degree in Forestry from Department of Forestry and Natural Resources, Purdue University(2021). Before attending Purdue, I received my master's degree from University of Eastern Finland (2018) and bachelor's degree from Nanjing Forestry University (2015) both in Wood Material Science. I was also an exchange student at the University of British Columbia (2013).
My research focuses on applying machine learning to human resource area. Attending machine learning related competitions is my side interests, and I have won many championships and runners-up in machine learning related competitions and top conference competitions at KDD, IJCAI, NeurIPS, and CVPR.